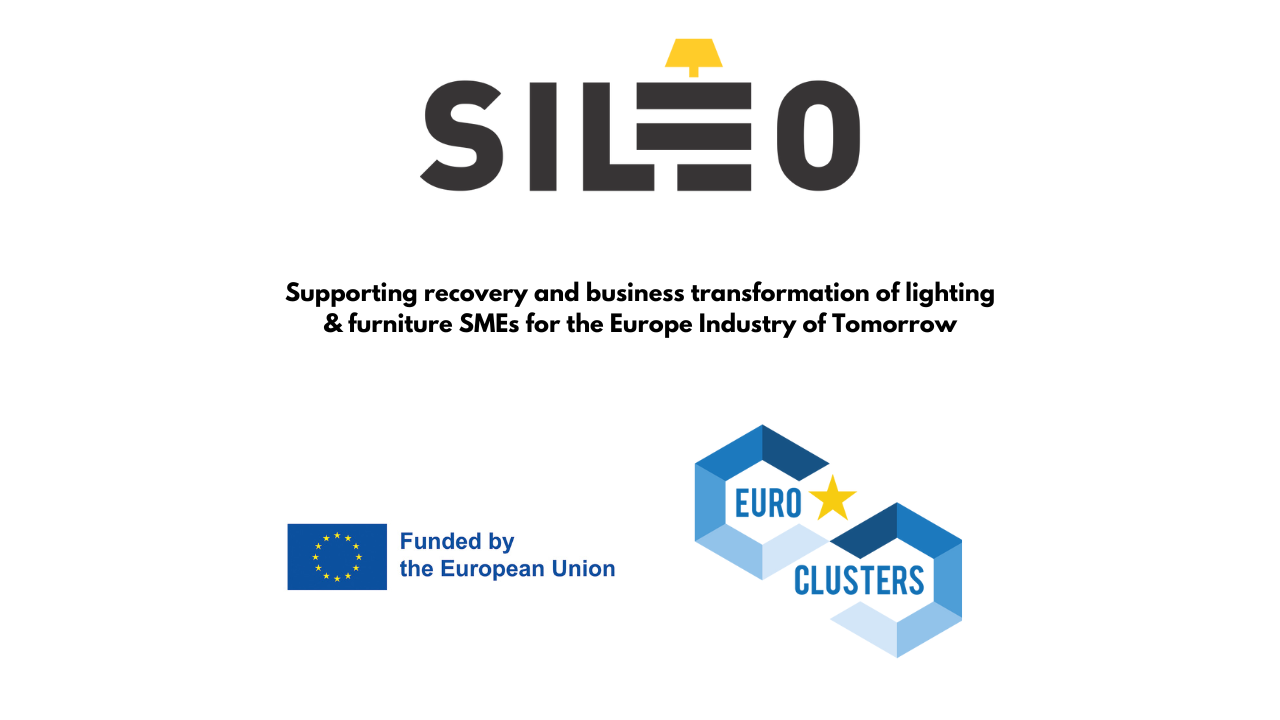 10 Feb

SILEO project – "Supporting recovery and business transformation of lighting & furniture SMEs for the Europe Industry of Tomorrow"

The newly EU-funded SILEO Eurocluster project (2022-2025) aims to support European lighting & furniture SMEs to fully understand and capture the potential paybacks of advanced technologies, digitalization and circular-led business models.

The SILEO Consortium is composed of 7 industrial clusters:

1. ELCA – EUROPEAN LIGHTING CLUSTER ALLIANCE, Italy (Project Coordinator)

2. Cluster Lumière, France

3. CICAT Lighting Cluster, Spain

4. Luce in Veneto, Italy

5. BIC Building Innovation Cluster, Austria

6. TFC Transylvanian Furniture Cluster, Romania

7. Cluster Legno, Arredo e Sistema Casa FVG, Italy

The SILEO project will offer an open innovation favourable environment for business upgrading with accompanying expert consultancy, sector-tailored cost-benefit analysis to de-risk the advanced technologies uptake and resilience-building guidance; reinforced by direct financial voucher schemes, join talent placement service and internationalization actions to accelerate lighting and furniture SMEs recovery; help them become more resilient to future shocks, better prepared for disruptions in supply and value chains, greener in business operations and stronger connected to technology ecosystems through strategic partnering.

The SILEO project will provide the EU lighting & furniture SMEs with the following business support services:
International Hackathons "SILEO Tech challenge – Hack Days to Drive Innovation in Lighting & Furniture" – hosting technology providers like DIHs, Competence Centres, Incubators, tech-savvy companies showcasing products and solutions answering the needs and challenges of the lighting & furniture SMEs;
SILEO Business Digital Transformation Vouchers (FSTP scheme) for lighting and furniture SMEs to support cross-sector collaboration between companies and digital technology providers/experts and facilitate SMEs in accessing the expert consulting for digitalisation, advanced technology exploring and business transformation;
SILEO Advance Technology Uptake Vouchers (FSTP scheme) for lighting and furniture SMEs to facilitate integration of new technologies into company production and service processes to support resilience, digital and green transformation;
SILEO joint service for SMEs for attracting talents – "SILEO talent placement vouchers" (FSTP scheme) supporting the identification of best talents among young professionals.