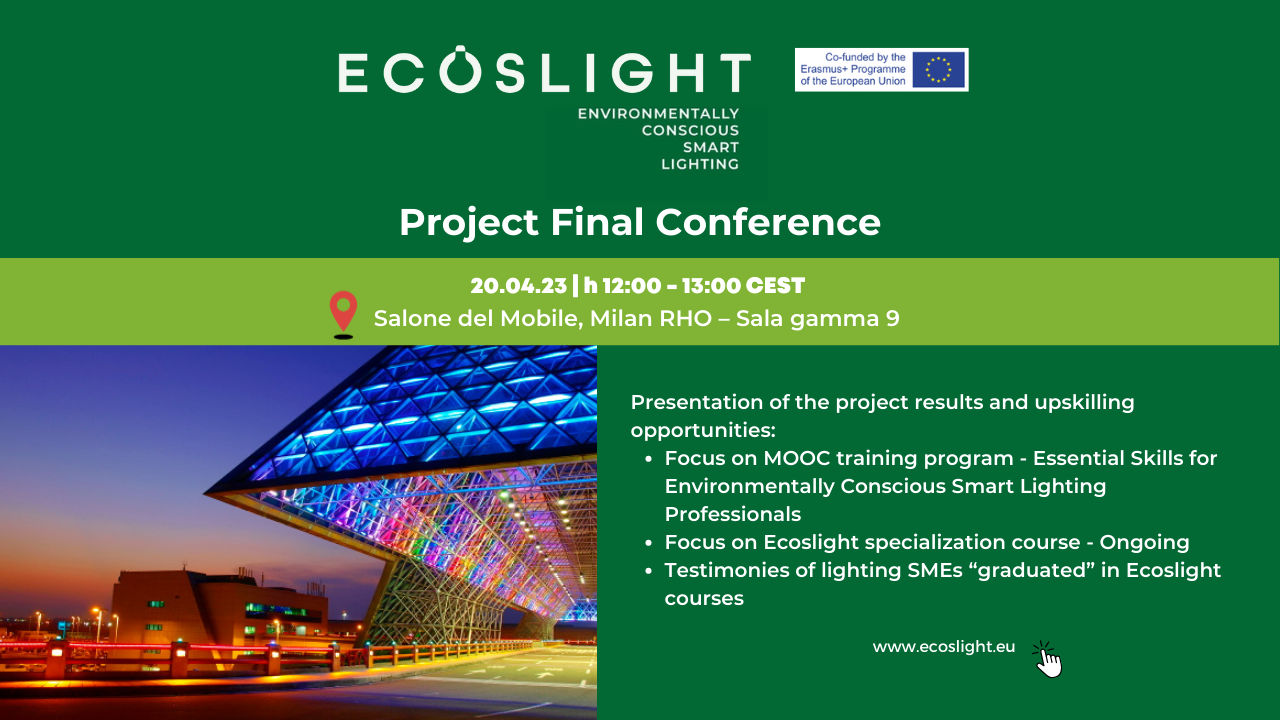 17 Apr

ECOSLIGHT project – FINAL CONFERENCE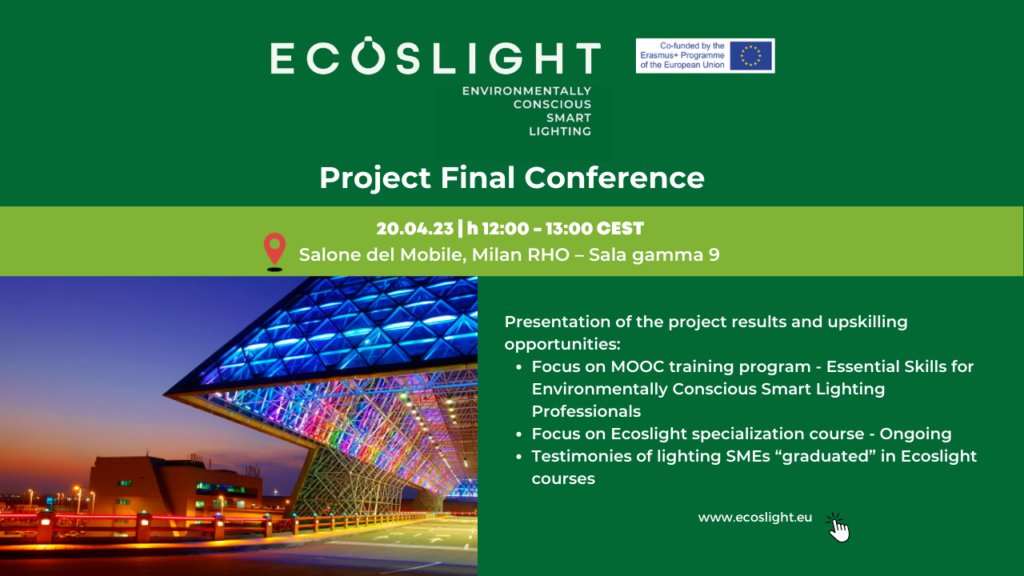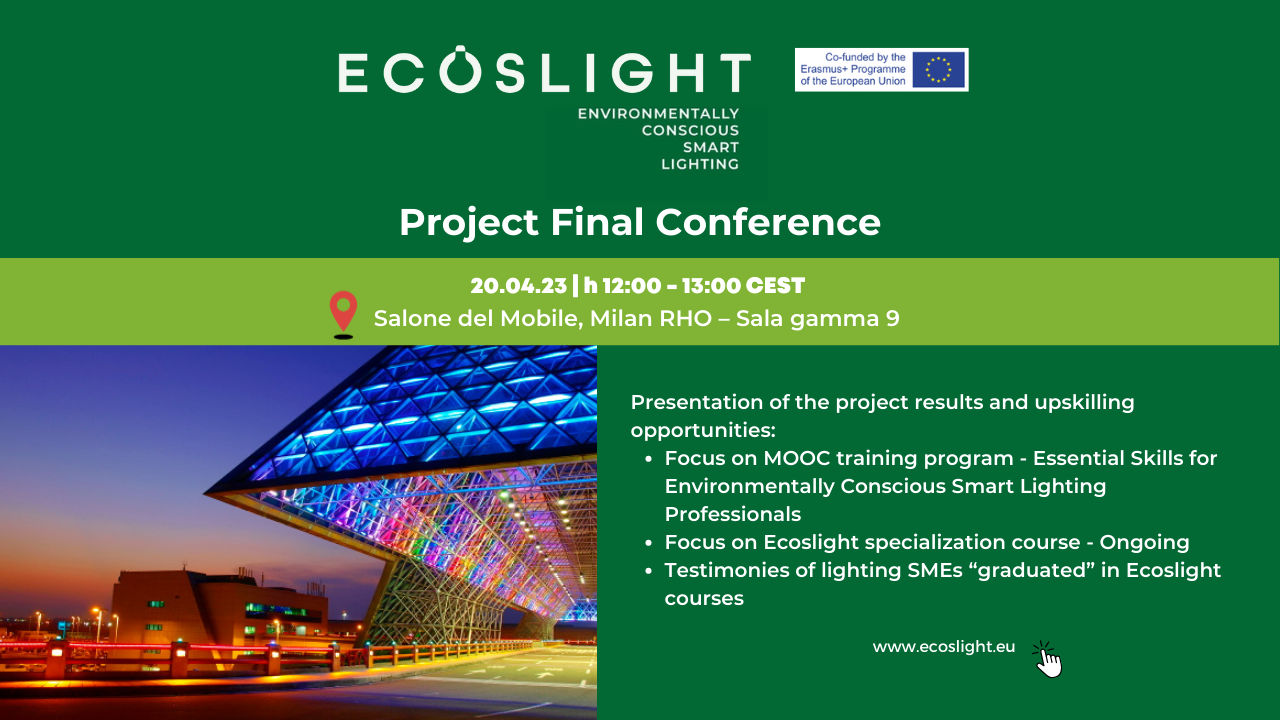 ECOSLIGHT 𝗽𝗿𝗼𝗷𝗲𝗰𝘁 𝗙𝗶𝗻𝗮𝗹 𝗖𝗼𝗻𝗳𝗲𝗿𝗲𝗻𝗰𝗲 at the Salone del Mobile 2023
📅 When? 𝗼𝗻 𝟮𝟬.𝟬𝟰.𝟮𝟬𝟮𝟯 𝗮𝘁 𝟭𝟮:𝟬𝟬 – 𝟭𝟯:𝟬𝟬 𝗖𝗘𝗦𝗧
📍 Where? 𝗦𝗮𝗹𝗼𝗻𝗲 𝗱𝗲𝗹 𝗠𝗼𝗯𝗶𝗹𝗲, 𝗠𝗶𝗹𝗮𝗻 𝗥𝗛𝗢 – 𝗦𝗮𝗹𝗮 𝗚𝗮𝗺𝗺𝗮 𝟵
Erasmus+ project ECOSLIGHT is reaching its end!
Join our Consortium and attend the Final Conference, where ELCA European Lighting Cluster Alliance and Hellenic Open University will present the project's main results & achievements, MOOC training programs "𝙀𝙨𝙨𝙚𝙣𝙩𝙞𝙖𝙡 𝙨𝙠𝙞𝙡𝙡𝙨 𝙛𝙤𝙧 𝙚𝙣𝙫𝙞𝙧𝙤𝙣𝙢𝙚𝙣𝙩𝙖𝙡𝙡𝙮 𝙘𝙤𝙣𝙨𝙘𝙞𝙤𝙪𝙨 𝙨𝙢𝙖𝙧𝙩 𝙡𝙞𝙜𝙝𝙩𝙞𝙣𝙜 𝙥𝙧𝙤𝙛𝙚𝙨𝙨𝙞𝙤𝙣𝙖𝙡𝙨", Specialization course for lighting professionals and follow-up initiatives.
During the event, we will also host lighting professionals and SMEs – Arch. Roberto Corradini & Silvia Betteto, Elesi Luce Srl, who have "𝘨𝘳𝘢𝘥𝘶𝘢𝘵𝘦𝘥" from the ECOSLIGHTVET course, and will testify about their experiences. 💫
𝘛𝘩𝘦 𝘍𝘪𝘯𝘢𝘭 𝘊𝘰𝘯𝘧𝘦𝘳𝘦𝘯𝘤𝘦 is 𝘰𝘳𝘨𝘢𝘯𝘪𝘻𝘦𝘥 𝘪𝘯 𝘢 𝘩𝘺𝘣𝘳𝘪𝘥 𝘧𝘰𝘳𝘮𝘢𝘵, 𝘪𝘯 𝘱𝘳𝘦𝘴𝘦𝘯𝘤𝘦 𝘢𝘵 𝘵𝘩𝘦 𝘚𝘢𝘭𝘰𝘯𝘦 𝘥𝘦𝘭 𝘔𝘰𝘣𝘪𝘭𝘦 𝘪𝘯 𝘔𝘪𝘭𝘢𝘯𝘰 𝘐𝘵𝘢𝘭𝘺, 𝘢𝘯𝘥 𝘰𝘯𝘭𝘪𝘯𝘦. 𝘐𝘵 𝘪𝘴 𝘰𝘱𝘦𝘯 𝘵𝘰 𝘢𝘭𝘭, 𝘧𝘰𝘳 𝘵𝘩𝘦 𝘳𝘦𝘨𝘪𝘴𝘵𝘳𝘢𝘵𝘪𝘰𝘯 𝘭𝘪𝘯𝘬 👉 https://lnkd.in/gbHxTidJ
We look forward to meeting you in Milan and online!